London, 12 June 2017: The latest fibre optic solutions for emerging technologies such as 5G and the Internet of Things will be on show at this year's European Conference on Optical Communications (ECOC) Exhibition. Key industry names such as Finisar, Fujitsu, Huawei, Lumentum, Sumitomo and Viavi will join more than 300 other exhibitors in Gothenburg, Sweden, with event organiser Nexus Media Events Ltd making more floor space available to cater for unprecedented demand.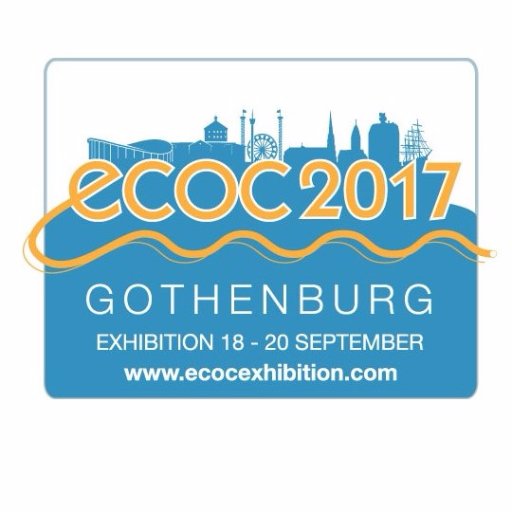 This year's exhibition takes place at a pivotal point for the industry, with operators and service providers increasingly looking towards fibre optic solutions to deliver on the promise of new technologies which will play a crucial role in the development of smart and connected homes and cities.
As well as several first-time exhibitors such as Jonard Tools, MRSI Systems and Murata Integrated Passive Solutions, returning attendees include Condux, Infinera, Luceda and Thorlabs. The exhibition has also received significant support from host country manufacturers, including C3 Connect, Direktronik AB, Melbye Skandinavia Sverige, Micropol Fiberoptic, Optobit Sweden, Phoenix Contact, Pro Optix, Proximion, Swelaser and Tykoflex.
"With so much innovation around fibre's role in emerging technologies for connectivity and access, this year's ECOC Exhibition was a 'must-attend' event in our diaries," said Simon Richardson, Head of Optics at Fujikura Europe. "The event is always very well attended and a real hub of discussion, and we're looking forward to sharing our latest developments with the cream of the fibre optic industry."
"The fact we have had to make more exhibition space available speaks volumes about what an important time this is for the fibre optic industry," said Beverley Lucas, Event Director for Nexus Media Events Ltd. "The event provides a great forum for the leading names of our industry to meet and do business, and we're delighted to welcome companies new and old to this year's exhibition."
The exhibitors will join sponsors Axetris, Go!Foton, Intel, Micropol Fiberoptic and Molex as well as Market Focus sponsor Inphi and ECOC TV sponsor Keysight Technologies at the event, which takes place in Gothenburg from Monday, September 18, to Wednesday, September 20.
If you are interested in exhibiting at ECOC 2017, please contact Liam Taylor at liam.taylor@nexusmediaevents.com. Registration to attend the exhibition is now open and can be done directly through the ECOC Exhibition website.